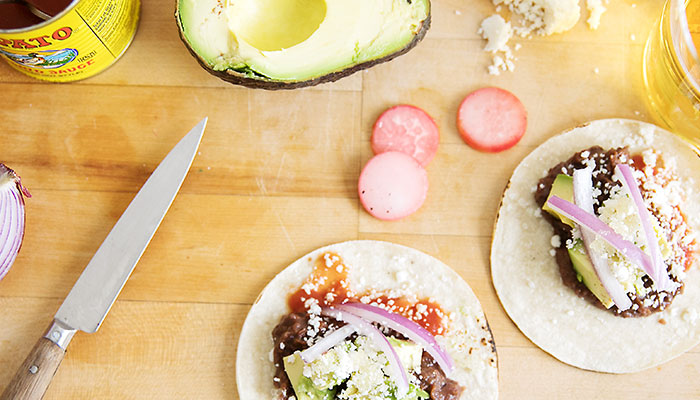 Black Bean Street Tacos with Adobo Salsa and Citriburst Finger Limes
Serves 4
Adobo Salsa
2 cups chopped, peeled, and seeded tomatoes
1/3 cup chopped white onions
2 chipotle chiles in adobo, with 1 teaspoon adobo sauce
1/3 cup chopped fresh cilantro
4 teaspoons Citriburst pearls (4 finger limes)
Salt
Pickled Radish and Onions
5 radishes, sliced
1/3 cup thinly sliced red onion
2 teaspoon Citriburst pearls (2 finger limes)
Black Beans
1 can (15 oz) black beans, drained
1 teaspoon ground cumin
Salt to taste
Taco Toppings
1/3 cup cotija cheese
1 avocado, sliced
8 corn tortillas
Directions
For adobo salsa: Combine tomatoes, onions, chipotle chilies in adobo and sauce, cilantro and lime juice in a bowl of food processor and pulse until smooth but still slightly chunky. Spoon into a bowl, season with salt to taste and set aside.
Meanwhile to assemble topping, combine the sliced radishes, onion, cilantro, and remaining 2 tsp. Citriburst pearls (2 finger limes) in a small bowl. Season with salt to taste.
In small dish mash beans, stir in cumin and season with salt. Heat bean mixture in the microwave or in a small saucepan until hot.
Heat a large non-stick or cast iron skillet over medium heat and warm tortillas one at a time, turning once and remove to four plates. Spoon on some black bean mixture and top tacos with pickled radish/onion mixture, cotija cheese, and avocado. Serve with plenty of adobo chili salsa to take Taco Tuesday to the next level!